Introduction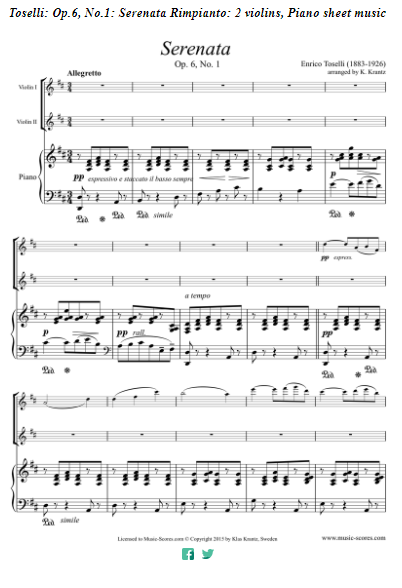 Enrico Toselli was an Italian concert pianist and successful composer of mostly light classical music. However, this talent was very much overshadowed by scandal!!
He toured as a concert pianist around Italy, European capital cities, Alexandria and North America.
His most popular piece is Serenata 'Rimpianto' Op.6 No.1
Scandal
Toselli's scandalous affair and marriage with Archduchess Luise of Austria obscures his musical talent. She was the former Crown Princess of Saxony, whose ex-husband became the King of Saxony. Toselli's musical career was taking off when he met her. They eloped in 1907 and had one child, however, it was not a particularly happy marriage.
Toselli chose to capitalise on his affair by publishing a book a year after the marriage ended in 1913. The book; Memoirs of the Husband of an ex-Crown Princess is still available today.
Serenata 'Rimpianto' Op.6 No.1
Toselli composer legacy is pretty much based on Serenata which is a salon piece that he wrote in 1900. It is full of emotion despite being written when Toselli was a teenager. Perhaps the piece foretells of the scandalous love affair and marriage to come…
Over the years some famous singers and instrumental versions of this piece have been created including one by violinist André Rieu. However, not all these have been complimentary.
The popularity of this piece highlights his other works. These include chamber music, songs, a symphonic poem and two operettas; 'La cattiva Francesca' & 'La principessa bizzarra'.
The Archduchess provided the libretto for La cattiva Francesca and assisted in the second opera.
Musical Downloads & Further Reading
On music-scores we have over twenty different arrangements of Enrico Toselli Sheet Music.
For further reading on this composer why not take a look at Wikipedia.