Tejada Sheet Music and Biography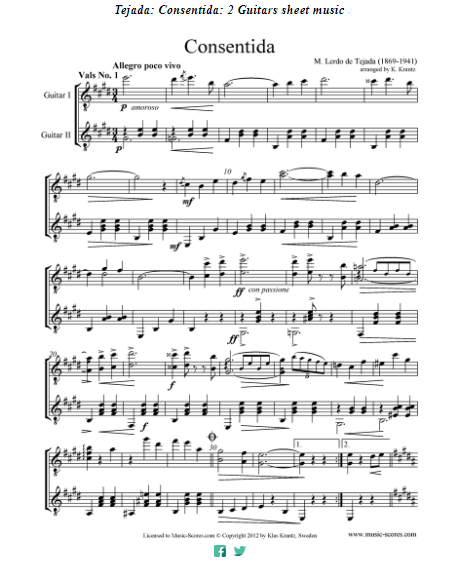 Miguel Lerdo de Tejada (born 29 September 1869) is most likely the first popular Mexican composer. He also played the piano.
His repertoire consists of arrangements of traditional songs as well as original works. He produced light classical music.
On music-scores.com we have a few sheet music arrangements of his waltz, Consentida.
Tejada studied in Morelia and Mexico City.
From the age of thirty-two in 1901 until 1941 he was director of the Lerdo de Tejada Typical Orchestra. It is known today as the Typical Orchestra of Mexico City.
Tejada performed and toured with his own group around the US, Cuba, and South America throughout his life, continuing until his death on 25 May 1941 at the age of seventy-one.
Tejada Sheet Music Downloads and Further Reading
On music-scores.com we have a few arrangements of Miguel Lerdo de Tejada sheet music in PDF format for you to download.
Further information on this composer is available on Wikipedia, however, little information is available. Be careful when searching, there is a Mexican statesman by the same name!