Tallis Sheet Music and Biography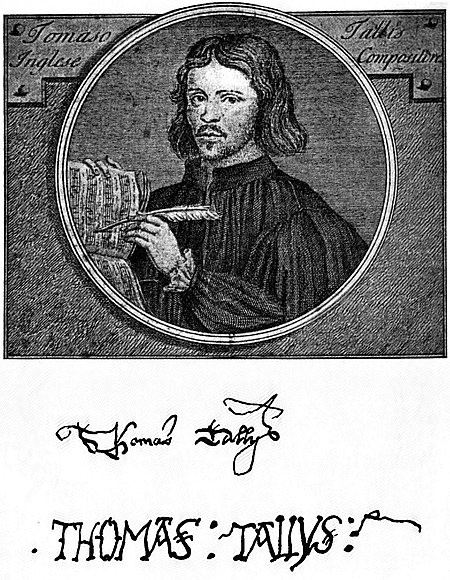 Thomas Tallis was an English composer of the 16th century.
We have just the one Tallis piece – If Ye Love Me – sheet music available for download.
Prior to William Byrd, Thomas Tallis was the first and most important composer of English sacred music.
He wrote his compositions in English, Latin, Italian, French, and other languages.
Unfortunately, there is no information regarding his early life, family, or even his actual date of birth. You can read more about the Early Music genre on our blog post.
Career
Tallis held brief positions at the Dover Priory, St Mary at Hill, Waltham Abbey, and Canterbury Cathedral. He was also a teacher and one of his students was William Byrd who became a good friend and later a business partner.
In 1543 he became a gentleman of the Chapel Royal. However, it wasn't until he was well into his sixties that he received the appointment of organist. Years later Byrd was appointed organist and the two shared the post.
Tallis had links with the Royal Family. Mary I gave him the lease on a manor in Kent, thus providing him with an annual income. He was also present at her funeral and the coronation of Elizabeth I a month later.
In 1575 Elizabeth I acknowledged the Tallis and Byrd's partnership permitting them a joint monopoly on the printing of all music. Byrd was just twenty-one at the time – much younger than Tallis. Their first work was a dedication to the Queen which was a collection of Cantiones sacrae.
In his joint petition to Elizabeth I in 1577 Tallis is quoted as saying that he "served your Majestie and your Royall ancestors these fortie years,". This leads us to believe that he had an association with the court prior to his appointment as a gentleman at the Chapel Royal. He was likely, serving under Henry VIII, Edward VI, Mary I and Elizabeth I. Tallis was versatile in his compositions to meet the needs and avoid the religious controversies associated with the various monarchs.
Family
Little is known of his personal life and his parents, although, in 1552 he married the widow of a gentleman at the Chapel Royal. However, there is no record of any children from the marriage.
After His Death
Two of Tallis' most famous pieces which are still famous today are' Spem in Allium' and 'If Ye Love Me'. Vaughan Williams composed a famous piece in 1910 based on a Tallis melody called 'Fantasia on a Theme'.
In 1971 the Thomas Tallis School was named after the composer.
Tallis Sheet Musica Downloads and Further Reading
On music-scores.com we have a single arrangement of Tallis sheet music in PDF format for you to download.
Read more about this composer at Wikipedia and Britannica.