I hope you have all had a lovely Summer! 
Since my last update we have added quite a few new uploads to the site.  There are twenty five in total and all are composed by Edvard Grieg from Op, 12.  Op.12 No.1-8 (Volume 1) is from a collection of 66 pieces composed for the piano, published in 10 volumes.
Book/Volume I, Op. 12 (composed 1866-7?; published 1867):
No. 1, Arietta
No. 2, Vals (Waltz)
No. 3, Vektersang (Watchman's song, after Macbeth)
No. 4, Alfedans (Elves' dance)
No. 5, Folkevise (Popular melody)
No. 6, Norsk (Norwegian melody)
No. 7, Albumblad (Albumleaf)
No. 8, Fedrelandssang (National song)
Op.12: No.1 – Arietta was one of Greig's favourite melodies.
Grieg was a Norwegian composer and pianist, born in 1843.  His mother was a music teacher and his first piano teacher. At the age of fifteen his parents sent him to Leipzigs Conservatory School which was founded in 1843 by Felix Mendelssohn as the Conservatory of Music.  At the age of seventeen Grieg survived pleurisy and tuberculosis and didn't enjoy good health due to a destroyed left lung and considerable deformity of his thoracic spine.  He married his cousin in 1867.
In 1868 Franz Liszt wrote Grieg a testimonial to the Norwegian Ministry of Education, which led to him obtaining a travel grant. despite having never met him.  The two men eventually met in Rome in 1870.
'On Grieg's first visit, they went over Grieg's Violin Sonata No. 1, which pleased Liszt greatly. On his second visit in April, Grieg brought with him the manuscript of his Piano Concerto, which Liszt proceeded to sightread (including the orchestral arrangement). Liszt's rendition greatly impressed his audience, although Grieg gently pointed out to him that he played the first movement too quickly'. (Wikipedia)
Grieg was awarded two honorary doctorates by the University of Oxford and Cambridge.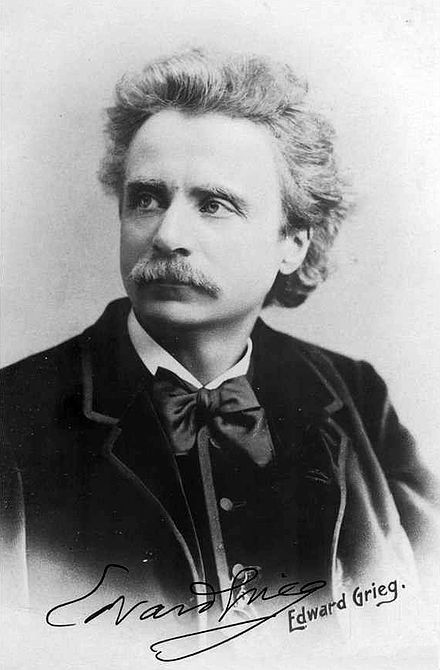 1843  –  1907