Jelly Roll Morton Sheet Music and Biography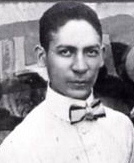 Born in New Orleans on 20th October 1890, Ferdinand Joseph LaMothe became known professionally as Jelly Roll Morton. He achieved fame as a ragtime jazz pianist and composer.
Try out his jazz foxtrot Jelly Roll Blues and his laid-back New Orleans Blues.
Career
Jelly Roll started his career in 1914 whilst living with his church-going great grandmother. He had to lie to his family about his first job as it wasn't in the most salubrious of establishments, namely a local brothel. It was here that he gained his nickname Jelly Roll, which was African-American slang for female genitalia. Unfortunately for him, his great-grandmother discovered his secret and consequently disowned him. She told him that devil music would surely bring about his downfall! It is thought Jelly Roll changed his surname to Morton to protect his family.
In 1902 Jelly Roll was criticised over his claim to having created Jazz and was consequently considered 'egotistical'. However, it is possible that this was taken out of context. He is quoted as saying he created his own style of jazz piano because 'All my fellow musicians were much faster in manipulations, I thought than I, and I did not feel as though I was in their class.' – Quoted in John Szwed, Dr. Jazz
Music critic Scott Yanow wrote, "Jelly Roll Morton did himself a lot of harm posthumously by exaggerating his worth…Morton's accomplishments as an early innovator are so vast that he did not really need to stretch the truth."
In 1904 he toured, working in minstrel shows. It was during this time that he composed 'Jelly Roll Blues'; 'New Orleans Blues'; 'Frog-I-More Rag'; 'Animule Dance', and King Porter Stomp'.
He spent the years 1910-13 touring with his girlfriend and then settled in Chicago for three years. In 1915 The Jelly Roll Blues became was one of Jelly Roll Morton's first published jazz compositions. Once he began putting his pieces onto paper his popularity grew and he was invited to perform in various cities including Vancouver.
In 1928 he married showgirl, Mabel Bertrand.
Death
Jelly Roll died in 1941 three years after being stabbed in the head and chest whilst living in Washington. After the stabbing, he was refused entry to the nearby 'whites only' hospital and had to travel further away to a black hospital. His treatment there wasn't the best and as a result, he experienced shortness of breath and illness for the rest of his life. They chose to leave Washington, ending up in a New York hospital suffering from asthma for three months. Jelly Roll's condition continued to deteriorate. His plan was to move to Los Angeles and continue his career. Sadly he died in the Los Angeles General Hospital on 10th July 1941.
Jelly Roll Morton Sheet Music Downloads and Further Reading
On music-scores.com we have some original transcriptions of Jelly Roll Morton sheet music ion PDF format for you to download.
For further information take a look at Wikipedia and JazzFM.