Introduction
Ruggero Leoncavallo was an Italian composer of Italian opera and a librettist for most of his operas. He was considered by some to be the best librettist of his time after Arrigo Boito.
His ultimate fame lies in his opera 'Pagliacci', despite writing many others.
Early Life
Leoncavallo was born in Naples, his father was a police officer and magistrate. They moved away from Naples and returned when Ruggero went to school. On leaving school he went to study at the University of Bologna to study literature.
Career
Leoncavallo then went to Naples Conservatory. He supported himself by playing the piano in cafes & giving concerts, in addition to providing singing lessons.
His initial operas failed to gain any attraction or popularity and then came 'Pagliacci' which was published in Milan in 1892 receiving immediate success. Sadly his later operas never matched this success
Pagliacci lies among the most favoured and regularly performed operas within the operatic repertory.
His other works include the song Mattinata which was made popular by the Italian operatic tenor Enrico Caruso. He wrote this song for the Grammarphone company which later became known as HMV.
In 1897 he earned public recognition in Venice for La Bohème, unfortunately it was outshone by Giacomo Puccini's opera of the same name which was premiered a year earlier.
Later Years
Leoncavallo died in 1919. Hundreds of people attended his funeral including his rival Puccini.
Musical Downloads & Further Reading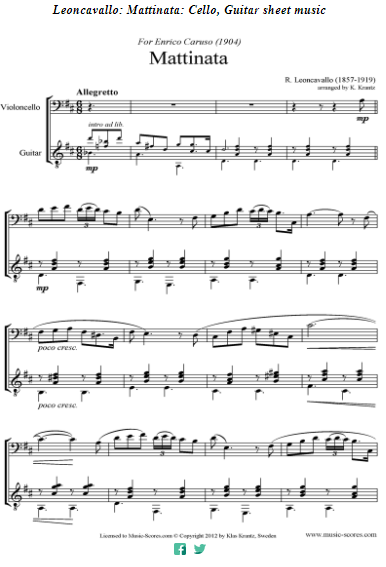 On music-scores.com we have over ten arrangements for you of Ruggero Leoncavallo Mattinata Sheet Music.
For further information on this composer take a look at Wikipedia and Britannica.