Hume Sheet Music and Biography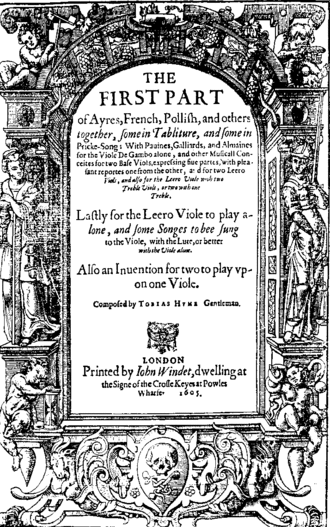 Tobias Hume was a Scottish composer born around 1579. No one knows much about his life. Even his year of birth is based on his entry into the London Charterhouse (a home for "distressed" gentlemen and the admittance age was at least fifty years old).
We feature Harke, Harke: No.10 from Musicall Humors on our main site.
Career
Tobias spent many years trudging across Europe as a mercenary serving in both the Swedish and Russian armies. He achieved the rank of Captain and possibly Colonel (this maybe a figment of his imagination created in his later years)…
He is known as a prankster and his music reflects this eccentric personality.
Hume published two books, one in 1605 and the other in 1607. He named his first book 'The First Part of Ayres' (Musicall Humours) which consisted of the largest collection of music for solo lyra viol by any composer at that time. His second book, 'Captaine Humes Poeticall Musicke' is perceived as his attempt to gain Queen Anne's support. Hume's compositions do not challenge the player's technical difficulty.
Tobias died on 16th April 1645 at the Charterhouse at the age of around sixty-six.
Hume Sheet Music Downloads and Further Reading
On music-scores.com we have a few arrangements of Tobias Hume sheet music in PDF format for you to download.
For further information take a look at Wikipedia.