Hassler Sheet Music and Biograph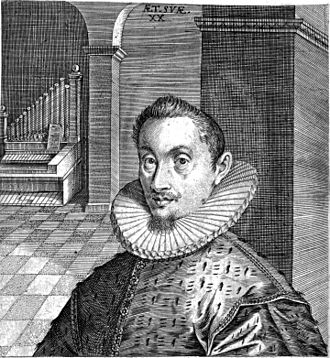 Hassler was one of the first German composers to travel to Italy and introduce Italian styles to Germany.
We feature a couple of his works Angelus ad pastores ait for Brass Quartet and Dixit Maria for Brass Quartet.
Life and Career
Hans Leo Hassler was born in Nuremberg in Germany in 1564 into a musical family. His father was organist Isaac Hassler who gave Hans his first lessons. His brothers Jakob Hassler and Kasper Hassler were also notable composers.
In 1584 Hassler went to Venice to continue his studies and remained there for eighteen months. During this time he met Giovanni Gabrieli and they both studied under his uncle, Andrea Gabrieli who was the organist at St Mark's Cathedral.
On the death of Gabrieli in 1585, Hassler became chamber organist to Octavian Fugger II in Augsburg, who subsequently hired his two brothers. During this time he was very creative and became well known as a composer and organist.
Hassler was also a consultant to organ builders and later went on to be involved in mechanical musical instrument construction. Emperor Rudolph II even bought a clockwork organ that Hassler had developed.
Despite being a Protestant he wrote many masses and directed Catholic masses. His compositions displayed a gifted blend of both religions.
In 1600 Octavian II died, Hassler was given a position by the town council as music director but returned to Nuremberg the following year taking a similar position. Then he took the position of Kaiserlicher Hofdiener in the court of Rudolf II. Whilst there he took some leave and went to Ulm where he got married.
Four years later he went to Dresden, during which time he held the position of Kapellmeister. Sadly, he started to display signs of tuberculosis which took his life at the age of just forty-seven on 8 June 1612.
Hassler Sheet Music Downloads and Further Reading
We have a couple of arrangements of Hans Hassler sheet music in PDF format for you to download.
For further information take a look at Wikipedia and Britannica.