Hughie Cannon Biography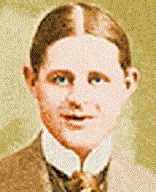 Hughie Cannon was an American songwriter and pianist. He was born in Detroit on 9 April 1877 and became famous for his ragtime music.
On music-scores.com we have the original arrangement of Bill Bailey, Won't You Please Come Home? for download.
Career and Works
In the 1890's Cannon performed with the Barlow's Minstrels singing, dancing, and playing the piano. In 1902 he wrote his most famous piece Bill Bailey, Won't you Please Come Home?
This song originated from a meeting with a man called Bill Bailey in a bar in Michigan where Cannon worked as a pianist. Here Cannon got talking to the performer and Bill talked freely to him about his marriage and life and this inspired Cannon to write the song. Bailey showed his wife who was apparently not amused! If you listen to the words and you might see why…
In 1904 he wrote his second most popular song; 'He Done Me Wrong' for the musical 'Frankie and Johnny'.
Other songs written by Hughie include:
'For Lawdy Sakes, Feed My Dog;' 'I Hates To Get Up Early In The Morning', 'Possom Pie'; 'Just Because She Made Dem Goo-Goo Eyes'; and 'You Needn't Come Home.'
He died at the young age of thirty-five on 17 June 1912 from cirrhosis of the liver. Alcohol seemed to be his worst enemy. He died penniless after selling off all the rights to his songs.
Cannon Sheet Music Downloads and Further Reading
On music-scores.com we have an arrangement of Hughie Cannon Bill Bailey Sheet Music in PDF format.
For further information take a look at Wikipedia.