Magnani Sheet Music and Biography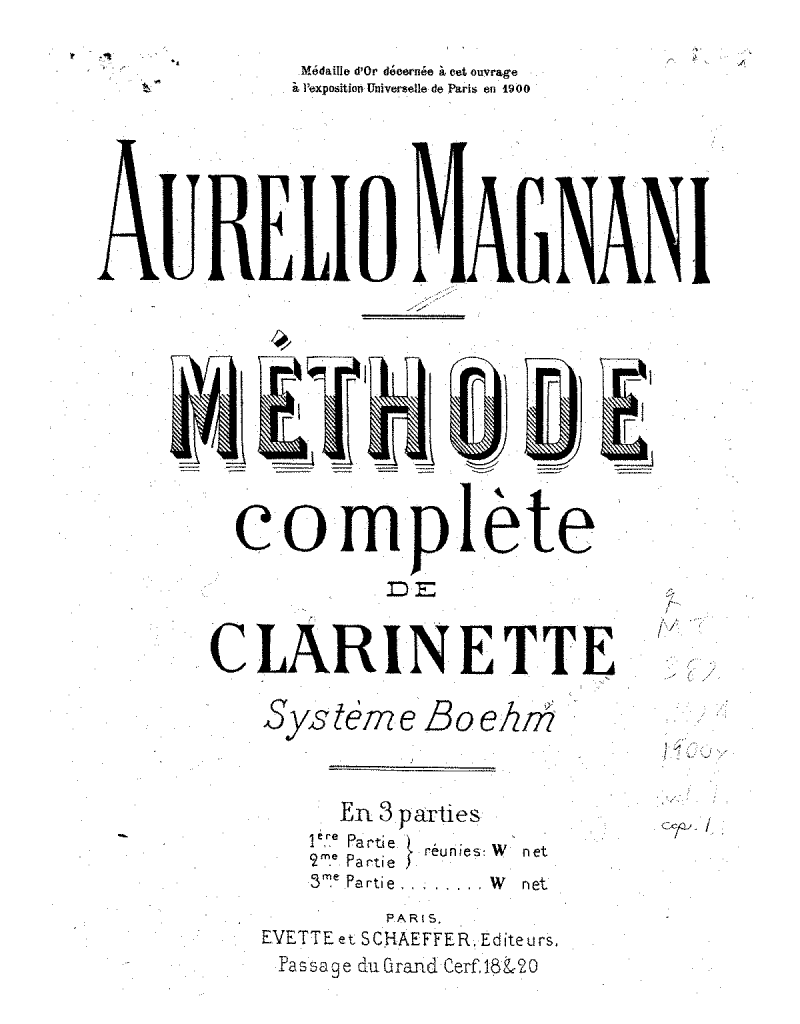 Aurélio Magnani was born on 26 February 1856 in Longiano, Italy. He was a performer and teacher of the clarinet and a composer.
Magnani wrote his 'Méthode Complète de Clarinette' (Method for Clarinet) and the Mazurka Caprice.
Try out Magnani's Sonata for 2 Clarinets on our site.
We have a few arrangements of Magnani sheet music
Career
In 1874 Aurélio Magnani graduated from Bologna's Liceo Musicale (now named the Conservatorio Giovanni Battista Martini) in the clarinet and composition. His career began in 1875 when he was appointed first clarinet in the orchestra of the Teatro Concordia in Jesi (Ancona) (now renamed Teatro Comunale Pergolesi). In 1877 he became professor of clarinet at Venice's Liceo Musicale "B. Marcello" in addition to being first clarinet at Teatro La Fenice.http://www.consbo.it/home
In 1883 he went to Rome and became chair in clarinet at the Liceo Musicale di Santa Cecilia a position that he held until his death thirty-seven years later.
He taught in both Venice and Rome producing numerous successful pupils who became professors at conservatories and others travelled, some to the US to become musicians and teachers.
Despite his busy life teaching Magnani dedicated much of his spare time to composing. His repertoire consists of two operas and various other instrumental works, including a quantity of chamber music for clarinet.
He died on 25 January 1921 at the age of sixty-four.
Apparently, his 'Méthode Complète de Clarinette is still a standard text in Italian conservatories and other establishments. He dedicated it to Cyrille Rose from the Paris Opera.
Magnani Sheet Music Downloads and Further Reading
On music-scores.com we have a few arrangements of Magnani sheet music in PDF format for you to download.
Very little is written about Aurélio Magnani however, should you wish to find out more take a look at Wikipedia and Naxos and there are some performances of his works on You Tube.