Grieg Sheet Music and Biography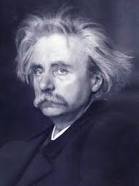 Edvard Grieg was a Norwegian composer and pianist in the Romantic Era.
He was responsible for putting Norway firmly on the musical map, becoming the founder of the Norwegian Nationalist School of Music. Over time he merged traditional Norwegian melodies and harmonies into his own compositions.
We have a large selection of his music featured on our site including popular pieces like Op.46 Morning Mood Peer Gynt No.1, Op.12, No.4 Fairy Dance, and Op.65 No.6 Wedding Day at Troldhaugen which celebrates his 25th wedding anniversary to his wife Nina.
Today he is Norway's most celebrated human icon, likened to the status of George Washington in the USA.
Life and Family
Edvard was born on 15th June 1843 to Gesine Judithe Hagerup, a music teacher, and Alexander Grieg, British consul, Bergen.
He was proficient at the piano from an early age due to his mother's teaching. Greig used the piano as an escape from the people who tormented him at school.
He married his cousin Nina Hagerup in 1867, and a year later he performed his pivotal piano concerto.
Edvard and Nina often performed in concerts together. They both performed his music for Queen Victoria and her court at a private concert in Windsor Castle.
Meeting Franz Liszt
In 1870 Edvard obtained a grant to visit Franz Liszt in Rome. On their second meeting, Liszt played Grieg's Piano Concerto in A Minor Op.16 by sight to a group of musicians. They all gave very good comments about the concerto though Grieg commented that Liszt played the first movement too quickly!
Death
Edvard Grieg died of heart failure on 4th September 1907 at the age of sixty-four after a period of prolonged illness. His funeral attracted thirty to forty thousand people and his ashes were buried in a mountain cave on his estate in Norway.
Grieg Sheet Music Downloads and Further Reading
We have over one hundred different arrangements of Edvard Grieg sheet music in PDF format for you to download.
If you want to read more about Edvard Grieg and his music then we recommend The International Edvard Grieg Society and Grieg Museum