Introduction
Robert de Visee was born around 1655. He played a variety of instruments and is known more for his performing than his composing. It is thought his greatest talent was displayed whilst playing the guitar. Although not a great deal is known about his life he did play in the music court of King Louis XIV and Louis XV.
Career and Works
Around 1680 he became chamber musician and played for King Louis XIV
In 1682 Visee's first book of guitar works was published and the second in 1686
In 1709 he gained the post as a singer in the royal chamber
1719 he became Guitar Master of the King' (Maître de Guitare du Roi) to Louis XV.
Further Reading & Musical Downloads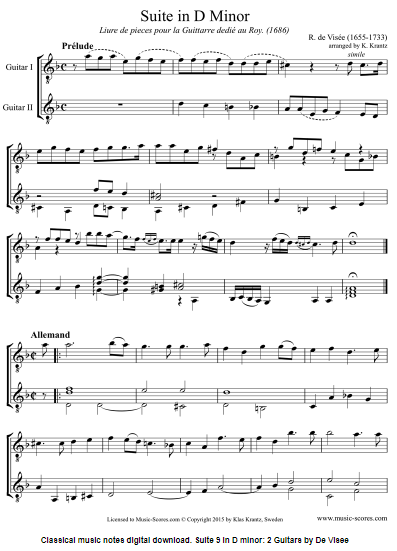 At music-scores.com we have a few arrangements for you of compositions by Robert de Visee. For further information take a look at Wikipedia and All Music.