Introduction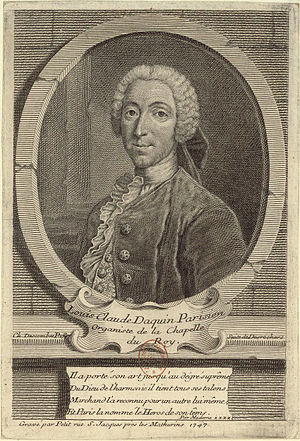 Louis Claude Daquin was a French composer, organist and keyboard player. HIs father was a painter, one of his great uncles was the physican to Louis XIV and his godmother was the composer Elisabeth Jacquet de La Guerre.
(Maybe this is how he obtained access to the royal circles?)
Career
Daquin played before King Louis XIV at the age of six and by the age of twelve he had become a professional organist and held a post at Sainte-Chapelle. In 1739 he became organist to the King but was never short of work as an organist. Daquin was known for his "unfaltering precision and evenness" of the keyboard, impressing crowds with his performances.
Works
In 1739 Daquin published Premier livre de pièces de clavecin (1735; First Book of Pieces for the Harpsichord), This contained his most popular pieces including Le Coucou, which is a successful collection of carols, Noëls pour l'orgue et le clavecin. On music-scores.com we have three arrangements of this piece, however if you are not familiar with it click on the link below (sorry for advert it only takes a few seconds to disappear!).
Further Reading & Musical Downloads
At music-scores.com we have three arrangements for you of Louis Claude Daquim's Le CouCou. For further information take a look at Wikipedia and Britannica.