Introduction
Josquin Despres also known as Des Pres or simply Josquin, was a great composer of the Renaissance in Europe.
Career
Much of his early life is speculative and it wasn't until 1477 that his first job as a singer at the chapel of René, Duke of Anjou, in Aix-en-Provence was documented. He stayed at the chapel until at least 1478 – however it could have been later. Between 1480 and 1483 he worked for King Louis XI until the King's death. Following this it is thought Despres might have headed to Milan. In 1489 he worked for the Pope's chapel writing music including motets. From 1504 until his death he held the post of provost in Condé-sur-l'Escaut in Northern France – known for its excellent choir.
His wrote mostly choir music for the church but also some non-religious music. His music fell into three areas plus some instrumental music:
Masses – use of general techniques
Motets – a variation of style from strictly homophonic settings to highly ornate to psalm – he displayed a free reign of his talent
Chassons – these were French songs
Despres died in 1521 and ensured his property and money was left to his church and not the lords.
Further Reading & Musical Downloads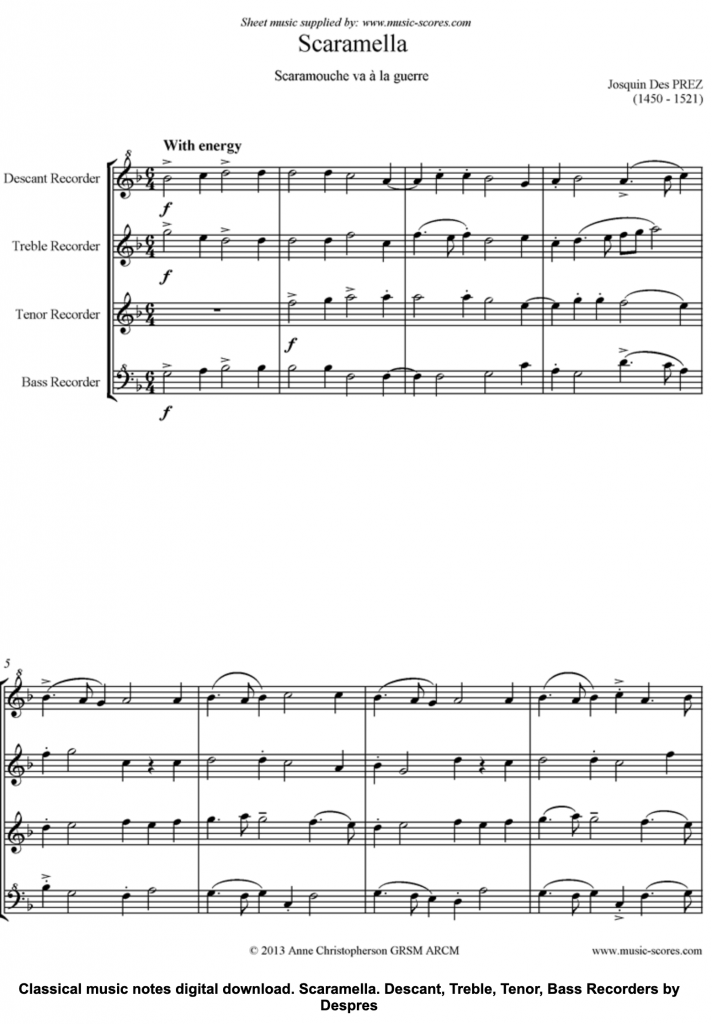 On music-scores.com we have 2 downloads for you of Josquin Deprez's composition of Scaramella also known as Scaramouche for descant, treble, tenor and bass recorders.
For further information take a look at Wikipedia or Britannica.