Introduction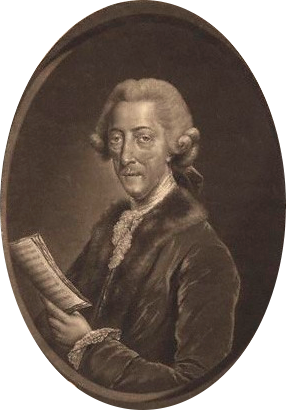 Thomas Arne was an English composer famous for his patriotic piece 'Rule Britannia', which is sung every year on New Years Eve in Great Britain.
His father and grandfather were upholsterers and wanted Thomas to study law. However on discovering Thomas's talent and his leadership of a group of musicians his father allowed him to leave law and follow his passion.
Musical Passion
Arne's passion for music lead to him becoming a bit sneaky:-
-When he was a boy he used to smuggle an instrument (a spinet) into his bedroom at night and smother the sound with a handkerchief so as not to wake his family.
-When he was older he dressed as a liveryman to gain access to the opera where he met Michael Festing who became his teacher and took him to many musical events.
-During his studies in law he secretly practised the violin.
Working Life
Arne taught his sister and brother to sing and they both performed in his early work in 1733 including Rosamond. Between the years of 1733 and 1776 Arne wrote ninety pieces for the stage. As his works became popular he was awarded a patronage of the Prince of Wales whose home in Clivedon was where Arne debuted the Masque of Alfred which included Rule Britannia.
Family
Between the years of 1737 and 1755 he was married to the singer Cecilia Young whom on separation he alleged was mentally ill, he then entered a relationship with one of his students; soprano Charlotte Brent who appeared in some of his works. Two years before his death in 1777 Arne and Cecilia got back together and had a son Michael Arne who became a composer.
Thomas Arne's Rule Britannia:
Further Reading & Musical Downloads
On music-scores.com we have twenty downloads for you of Thomas Arne's compositions. For further information take a look at Wikipedia  or  Britannica.