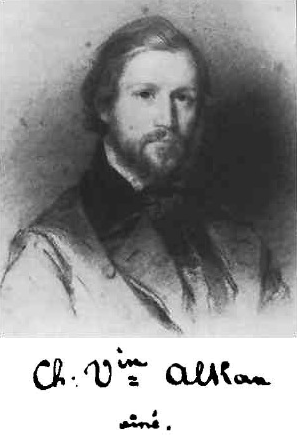 Introduction
Charles Valentin-Alkan was a composer and virtuoso pianist born to Jewish parents. He had five brothers and one sister all of whom were musicians.
Alkan was a child prodigy and entered the Paris Conservatoire at a young age winning many awards. By the age of seventeen he had earned himself a reputation as a virtuoso pianist. Despite his public appearances he had periods of withdrawal.
Works:
Alkan produced many arrangements of his predecessors – Beethoven, Mozart, Bach, Haydn, etc.
Some of his own works include:
* 12 pieces, Les Mois (1872; "The Months")
* Grande sonate: les quatre âges (1848; "The Four Ages")
* 2 piano concerti
* Op.35 – reflect his studies of the major keys
* Op.39 – minor keys
It is believed that he was killed by falling book case aged 74, although this is disputed by others that say he fainted and pulled an umbrella rack on top of him and died later that evening.
Further Reading & Musical Downloads
On music-scores.com we have a few downloads for you of Charles Alkan's compositions. For further information take a look at Wikipedia or Britannica.