Introduction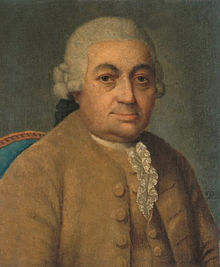 Commonly known as CPE Bach, he was the third son of JS Bach and his first wife Maria. He was one of four of Bach's children to become professional musicians. Despite his fathers influence he became a musician in his own right and was one of the foremost composers of the early classical period.
In 1740 Bach gained the position of Harpsichordist to Frederick II of Prussia, then 6 years later he negotiated his exit from the position to became Music Director of Hamburg.
His numerous compositions include symphonies, chamber music, organ sonata's and songs. Initially his music was very traditional due to his position with Frederick II, however once he moved to Hamburg his music progressed and is known to have influenced the likes of Haydn, Mozart and Beethoven.
He married in 1744 and only three of his children survived to become adults. However unlike his father's children none became musicians.
Further Reading & Musical Downloads
On music-scores.com we have a few downloads for you of CPE Bach's compositions. For further information take a look at Wikipedia  or  Britannica.