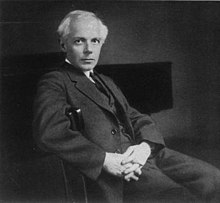 Béla Bartók was a Hungarian composer, pianist and ethnomusicologist (study of world music from all perspectives), and teacher.
He showed talent on the piano at an early age and his mother started formally teaching him from the age of five. He composed short pieces including a piece called The Course of the Danube which he performed two years later at his first public recital aged eleven.
Bartók developed a large interest in folk music and in 1908 he travelled to the countryside with his friend and colleague Zoltán Kodaly. Here they collected and researched old Magyar folk melodies which they discovered had previously been categorised as gypsy music. They quickly incorporated these folk melodies into their own compositions. Bartók published many important studies of Hungarian and Romanian folk music.
As a pianist he performed concerts in Europe and the United States introducing them to his new Hungarian music. He taught many pianists both foreign and Hungarian
Family
Bartók married twice, first to Márta Ziegler for nearly fifteen years and they had one son. Shortly after his divorce aged forty two, he married one of his students; Ditta Pásztory aged just nineteen and they also had a son.
Further Reading & Downloads
On music-scores.com we have over twenty downloads for you of Béla Bartók's compositions. For further information take a look at Wikipedia  or  Britannica.