Hello
I hope you enjoyed the long bank holiday weekend.  This week Anne has added four new arrangements to the website.  Three of which are in addition to last weeks arrangement of Strauss Junior's Perpetuum Mobile.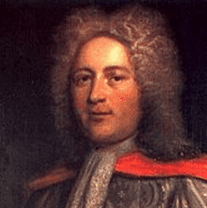 The fourth arrangement is for a Clarinet Quintet of the Trumpet Voluntary by Jeremiah Clarke, an English composer.  Clarke was born around 1674 and was a boy at St Pauls Cathedral followed by a chorister at Chapel Royal.  He then became an organist at Winchester College and then St Paul's Cathedral between 1699 and 1704.  He later became a an organist and 'Gentleman extraordinary' at the Chapel Royal.
Sadly Clarke life ended when he took his own life after being let down by a beautiful young lady who was one of his students.
The Prince of Denmark's March or Trumpet Voluntary is how Clarke is remembered.  It is a popular keyboard piece originally for the harpsichord which is often played at weddings.  The piece was originally attributed to Henry Purcell until the 1940's.
Clarke: Suite in D: Trumpet Voluntary
Clarinet Quintet
(No.4 from Suite in D, The Prince of Denmark March, known as the Trumpet Voluntary)